So, you've reached that stage in life where you want to know how to start a blog? You've come to the right place, kiddo.
Blogs are still cool. In fact, they never went away. They're the perfect medium through which to expose the world to your hot takes, nuanced analyses, and unhinged rants.
But where to start? It's no longer the 2000s, where you can spit out a few garbled opinions and expect to go viral overnight.
The internet's not what it used to be. It's ferocious and competitive, and you need to be at your A-game in order to have any chance of success.
But don't let that deter you, because here's your foolproof guide to starting a blog in just four easy steps.
How To Start A Blog 1. Pick a blogging platform
Before you even come up with a name, you need to decide on what kind of blog you want to start.
Are going to publish 2,000-word screeds on WordPress? Do you want to reblog other people's shitposts on Tumblr? Are you a boomer who wants to make a janky-looking site on Blogger? The choices are endless!
If we're looking at free platforms, Tumblr is both the most customizable and the most social. In fact, you should only go with Tumblr if you plan on engaging with other people's blogs, otherwise, you'll find yourself screaming into a 2012-era abyss.
WordPress blogs look pretty schmick if you choose a decent skin, and it's still possible to be fairly social. If you opt for one of the paid versions, you'll be able to customize your blog even more.
Perhaps one of the most beautiful blogging services is Medium. The only problem here is that every single Medium account looks virtually identical. It's great if you like clean design, but definitely not the right option if you're keen on showing off your individuality.
There are of course other options. Most website-building platforms like Wix and Squarespace will have blogging functionality, but because they're not primarily designed for blogs, your best bet is going with one of the above options instead of trying to cook toast in an oven.
2. Get posting
Ah the crucial bit of the how to start a blog process: the actual blogging. If you're on Tumblr, you can virtually ignore this step. Just start shitposting and/or reblogging other people's stuff and your blog will grow in no time.
As for everyone else on platforms like Medium or WordPress, you'll need to find time in your day to write something meaningful.
Whether you're just writing a diary to share with mates or hoping to make it into Google search results with your words of wisdom, it's important to remember that nobody's going to click on your stuff unless it's good.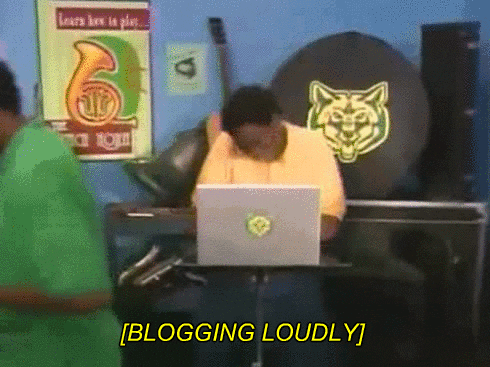 If you're blogging about food, show us something new. If you're starting a travel blog, cut out the boring parts (yes, we don't need to know every second of your weekend on the Gold Coast). If you're blogging about being a parent, include tips or reflect on what you've learned.
Also: No matter what you decide to blog about, don't forget to include pics!
Once you've gotten into the swing of writing, it's important to be consistent. Your readers will lose interest if you post three entries in a week and then go silent for the next six months, and I'm speaking from experience here.
3. Engage with your readers!
If somebody comments on your blog post, you have no choice but to reply. Do you know why? Because comments that don't get replies will put off other readers from commenting.
You want comments, right? Of course, you do. The rush you get when a single person takes time out of their day to critique your personal musings is like no other. It's addictive.
This works both ways in the how-to start a blog process.
On all platforms, you should be religiously liking/having/applauding other peoples' blog posts that you enjoy or find insightful. And if you really do have something nice to say, make yourself heard down in the comment section.
If you leave a comment on a small blog, you can bet the owner of that blog is gonna click your name and have a stickybeak at your own posts. Voilà, you're networking now, baby.
4. Start promoting your blog
No blog should exist in a vacuum. That's the online equivalent of yelling at a brick wall. A key component of the how-to start a blog process is actually getting eyes on the thing.
If your blog is connected to you as an individual, it's a good idea to link it to your Twitter or Instagram accounts. That way, you can readily promote your new blog posts to your followers on social media.
If your blog is more, say, detached from you as an individual, consider making a new Twitter or Instagram account for the blog itself. Again, just resharing your posts on social media is an easy way to funnel viewers to your site.
There are also plenty of closed Facebook groups set up for bloggers in certain niches to network, collaborate, and just interact with one another. Try searching "travel bloggers" or "fashion bloggers" on Facebook to see some of these groups.
It'll be a tough slog at first, but if you stick with it the engagement will eventually snowball into something more self-sustaining.
That's it, really. You now know how to start a blog. So bloody well go and do it. Happy blogging!